Visa
Please consult Migraciones or your local Argentinian Consulate to see if you need a Visa to come to Argentina. If you need a visa, please contact us immediately.
Arrival Information
Buenos Aires is served by two airports. The main international airport is Ministro Pistarini Airport, also known as Ezeiza, located about 30 km from Buenos Aires. Many flights to and from neighboring countries use the smaller Aeroparque Jorge Newbery airport, a short distance from downtown and very close to the venue.
From Ezeiza:
By Taxi: just before leaving customs you will see several booths offering prepaid taxi services. Manuel Tienda León is the best known and more expensive but the others are ok. Outside customs but inside the building you can use the less expensive but still safe Taxi Ezeiza. The trip from Ezeiza to Belgrano costs around USD 30 and takes around 40m. You prepaid the ride at the booth. Dolar, Euro and Credit cards accepted (at an extra rate). Taxi apps for Android and IOS are also available. In Buenos Aires, you can use, for example, Cabify of BA Taxi, the taxi app of the city. Hailing a curbside taxi is strongly not recommended.
By Coach: Manuel Tienda Leon. This bus costs around usd 10 but only goes to Retiro (Terminal Madero) and Aeroparque (the other Airport). You can then take a regular bus from Aeroparque to go to the Ciudad Universitaria with a SUBE card, this trip takes less than 10m, see below.
By Regular Bus: There are regular buses which you can get with a SUBE card, sold in the "Locutorios", the telephon booths in the airport. The ride of the bus 8 changing to bus 28 to the venue takes around 1h50m with a cost around ARS 50.
From Aeroparque
By Taxi: You can prepay your trip at the desk of any of the taxi agencies at the arrival area of the airport, such as Remis Transfer Express, Remis Trans Air or Manuel Tienda León. There is a usual taxi stop outside the building but prefer prepaid taxis hired inside the building, or taxi apps. Hailing a curbside taxi is strongly not recommended.
By Regular Bus: You can also take regular buses but to pay your ticket you need a SUBE card, sold in "Locutorios" and Cigarette Kiosks in the Airport. Crossing the Avenue Costanera, all buses take you to the venue in 10m at an approximate cost of ARS 25.
Getting around in Buenos Aires
To get around while in the city, a good reference is wikitravel. The subway network (subte) reaches most touristic attractions, and several bus lines (colectivos) go all over the city. You can plan your route with the Interavtive map, Omnilineas o Moovit. Bus and subway rides cost less than ARS$30. To use buses and metro, you need to buy an electronic ticketing card called SUBE and add some credit to it. See the map of selling locations. The card costs less than ARS$50. Buenos Aires is a big city, so it is good to take some precautions. Drivers may be very agressive, so be careful when crossing the street. It is usually safe to walk in touristic areas in the evening though you do not want to show up appealing electronic devices. There could be some pickpockets so it is good not to leave your belongings unattended in restaurants and bars, and -especially in buses- always keep your bagpack and purse in front of you, and your money in your front pocket. The usual precautions when traveling need to be applied here too. Buses to reach Campus UBA -Ciudad Universitaria-: Numbers 28, 33, 34, 37, 42, 45, 107, 160. Warning: The destination sign on the bus should indicate Ciudad Universitaria.
Venue
The conference will take place at the First floor of the Pabellón 1, Facultad de Ciencias Exactas y Naturales, Ciudad Universitaria.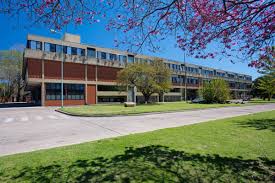 Weather in Buenos Aires
July is a winter month with average temperature 12C (53F); the average low is 8C (46F) and the average high is 15C (59F). Average humidity is 79%. Chances of a sunny day are around 32%, while there will be around 38% chances of a cloudy day and 21% of rain.
Power supply and plugs
Electric power supply in Argentina is alternating current at 220 volts, 50 hertz. Type I plugs are the standard, but Type C plugs are also used (old standard).
Currency
The Argentine currency is the Peso (ARS). Information on the official exchange rate at Banco de la Nación Argentina. You can change cash at any exchange office; usually Banco Nación has the better rates for selling your dollars or euros. Other currencies have bad rates at any place. Alternatively, you can use your card to get pesos at any ATM but they usually charge usd 5 per transaction, depending on your bank. Credit and debit cards are widely accepted. Please do not change money in the street to avoid getting counterfait banknotes.
Tiping
Restaurants: It is customary to leave a tip equivalent to 10% of the bill. It is usually possible to tip with credit card.
Taxis: No tip expected, but it is standard to round up a little..